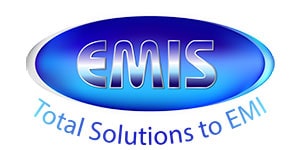 EMI Solutions Pvt. Ltd.
Is an ISO 9001-2015 and 14001-2015 certified company specialized in providing "Total Solutions to EMI".
EMIS products are manufactured with International safety certifications UL, CSA/C-US, and NEMKO.
EMIS manufactures Single Phase and Three Phase power line filters which are available in the Rated current starting from 0.5 Amps up to 2500 Amps with Voltage Ratings 110 / 230 / 440 / 520 and 600 VAC in different packages.
EMIS also designs custom Filter solutions as per customer specifications.
EMIS has now a wide range of high-end filters for applications up to 40 GHz frequency range, which is typically used in Military and Medical MRI applications. These filters are available up to 2500 Amps rated current.
EMIS makes products for Power Surge Protection applications. Some of the products in this range include Harmonic Filters, RC suppressors for Relay Contacts, Surge Protectors for Drives / Switching circuits, Lighting protectors, Tempest filters and High Altitude Electromagnetic (HEMP) filters for protection against Atomic and Solar Burst for DC, AC, ETH, and RF needs.
For any requirement please contact TECT sales department
TECT
Haharzit 23 Elyachin 3890800, PO693 ISRAEL
077-9979894
tamir@tect.co.il